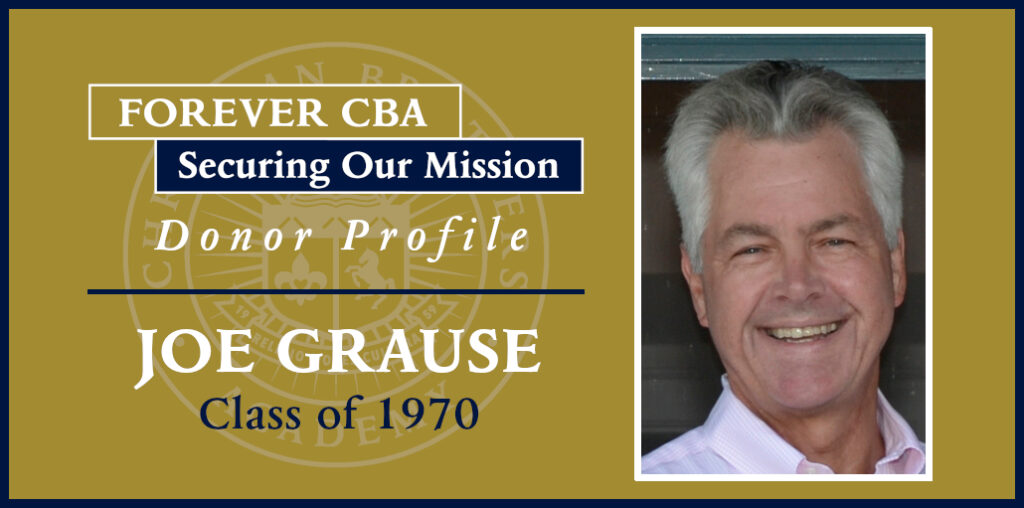 Joe Grause '70 considers himself very fortunate to have attended Christian Brothers Academy, not unlike thousands of Colts alumni.
"I was fortunate to have teachers, both Brothers and lay teachers, who challenged me academically and were positive role models," he said. "The skills and habits that were taught at CBA helped prepare me for college, grad school and my working years."
While he has lived in Massachusetts for most of his adult life, Grause still feels a strong connection to the Academy, which has propelled him to support the Forever CBA: Securing Our Mission campaign.
"While I wish that I had lived closer to New Jersey and been more involved with CBA over the years, I am happy to help future young men have the same opportunity that I did."
Grause understands the need for college preparatory schools to continually upgrade facilities to enhance the experience for current and future students. New facilities will allow the Academy to offer more programs in academics, athletics and extracurricular activities.
"I do think that it is critically important for top-quality secondary schools, like CBA, to offer and support as wide of a range of extracurricular activities as they can," he said. "Whether it is track, tennis, basketball, theater, or various clubs and interest groups, these activities help young men develop and discover themselves outside of academics."
He is proud to be a contributor to the endowment aspect of the campaign.
"If CBA it is to thrive and attract candidates from across the Jersey Shore, it needs to both maintain its physical plant and provide scholarship funds. Endowed scholarships enable students from a broad range of economic backgrounds to attend CBA."
After graduating from Brown University and University of Pennsylvania, Grause enjoyed a 35-year career in the investment management field. He raised his three sons in Needham, Massachusetts with his wife, Maria. They have resided in Nantucket, Massachusetts since 2011.