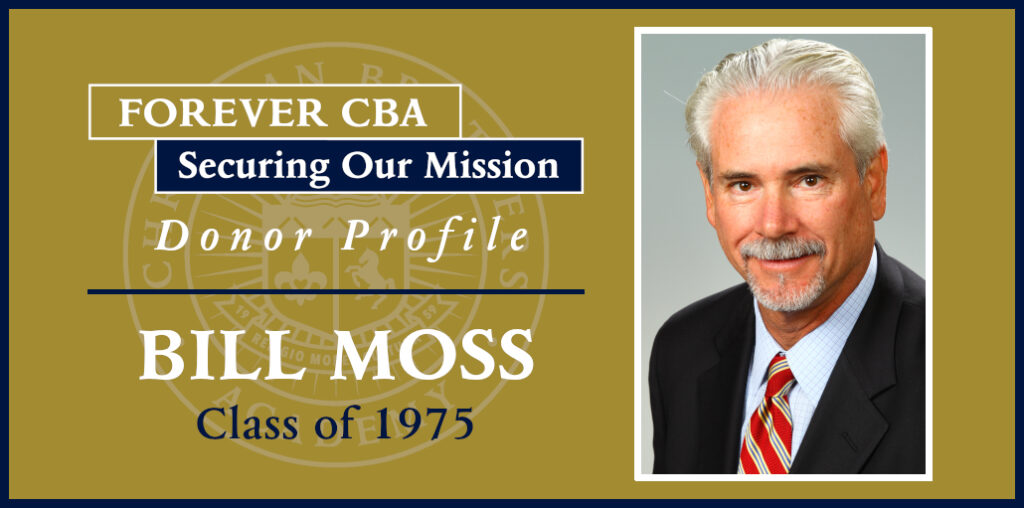 When Bill Moss '75 looks back on his time at Christian Brothers Academy, he thinks of the friendships he made, the role models he looked up to, and the life path that CBA set him on.
So when he returns to the Lincroft campus today, Moss can't help but feel nostalgic.
"I enjoyed a positive experience at CBA so it is both nostalgic and comfortable. I find it a very positive environment. You see firsthand dedicated teachers and willing students working hard towards a common goal."
Since his 1975 graduation from CBA, Moss has remained a constant part of the community as an involved alumnus, parent with a son at CBA, and Board of Trustees member.
"As a parent, CBA was a great choice for my son Bennett, where I can now see the positive impact it has made on him. As far as my role on the Board of Trustees, I am honored to serve the school in that way. I spent over 20 years actively involved with the forerunner organization to today's Alumni Association and now serving on the Board is another way to give back to the school as a volunteer."
Because the Academy made such an impact on both him and his son, Moss has generously supported CBA with the Brother Frank Byrne Endowed Scholarship. Moss and Brother Frank were both members of the Class of 1975 together, where they became close friends.
"Brother Frank has been a role model, one that I could use to measure myself against in my personal life and my business career. So many former students and parents will remember Brother Frank and the role he played in their development as young men. All of us should be grateful for the time Brother Frank has spent in Lincroft."
As the facilities involved in the Forever CBA: Securing Our Mission inch closer to reality, Moss is excited for the campus upgrades.
"As a former member of the track team, I am most excited about the new track & field and the Round Barn. The state and nationally-recognized quality of so many of our teams warrants the athletics upgrades and replacements we are making."
However, Moss knows that the endowment portion of the campaign can make a tremendous impact for future Academy men.
"The endowment component of the campaign is critical to the future of the school. It is the only way we will be able to meet the mission of the Brothers and be able to provide the high quality, life-changing experience that our students go through during their time at CBA."
Moss lives in Shrewsbury with his wife, Elizabeth. He was the chairman, president & CEO of Two River Bank Corporation until his retirement in 2020, which wrapped 40 years in the commercial banking industry.