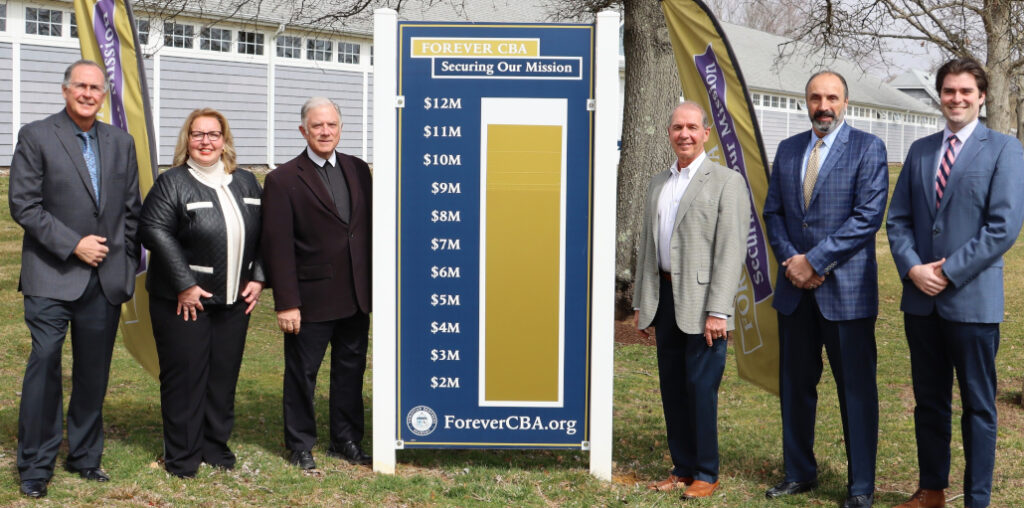 (Members of the campaign committee from left: Bill Attardi '82, Trish Hansen, Br. Frank Byrne '75, Don Norkus '67, Joe Tort '76, and Tom Ferro '13.)
There was cause for celebration this past week as the Forever CBA: Securing Our Mission capital campaign reached the $11 million mark.
This milestone puts the campaign one step closer to the $12 million goal that was announced in October 2019.
"We are grateful to all who have attended the campaign information sessions and to those who have made pledges and gifts," said CBA President Brother Frank Byrne '75. "Take a look at the sign as you drive down the entranceway and see how that gold stripe is inching closer to our campaign goal of $12 million. The campaign's parents committee is working hard in order to get a 100 percent rate from our parents at whatever level possible."
When the campaign was publicly launched, the campaign committee had secured gifts of $8.6 million. The focus of the campaign is two fold: building up the endowment for scholarships and school programs, as well as upgrading campus facilities.
After successfully receiving town approval, construction on the multiple capital projects is expected to begin this later spring. The new Sheehan Track & Field Complex will create a home that equals the success of the 22-time state champion outdoor track & field program, located behind the existing baseball field.
CBA plans to relocate the soccer and lacrosse fields to the front of campus in a new complex that will be visible from Newman Springs Road. Meanwhile, the Tom Heath Round Barn will be built in the same footprint of the existing iconic structure.