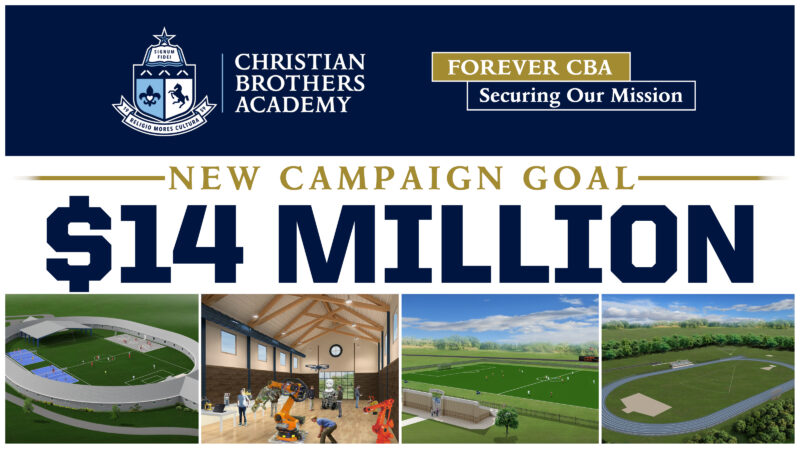 With summer construction beginning on multiple facilities, the Forever CBA: Securing Our Mission capital campaign has more big news.
The campaign's goal has been raised from $12 million to $14 million as enthusiasm from CBA supporters remains high.
The Forever CBA campaign identified two areas for fundraising: campus facilities and school endowment. To date, the campaign has raised more than $11.6 million towards that $14 million goal.
"The response to the Forever CBA capital campaign has been overwhelmingly positive," said campaign chairman Don Norkus '67. "Our parents, alumni, and friends can see the important nature of the campaign, upgrading the campus and adding to our endowment. While our goal was originally $12 million, we understood that the need was greater."
With the proposed facilities, the Academy has always made it a priority to continually upgrade the campus in order to match CBA's academic and athletic prowess. In fact, multiple construction projects started immediately after the school year concluded.
The first project to get underway is the relocation of soccer and lacrosse fields to the front of campus. In place of the former track & field, the new complex that will be visible from Newman Springs Road. Artificial turf will provide a field that can handle most weather conditions and the facility will include accessible spectator bleachers, as well as a new scoreboard and sound system.
The new site of the Sheehan Track & Field Complex has been prepped behind the existing baseball field. The complex will feature an eight-lane track, a natural grass infield, the most up-to-date safety and performance technology, accessible spectator bleachers. A new scoreboard, sound system and equipment shed will complete the facility, which will match the success of the 24-time outdoor state champions.
Later this summer, the Round Barn will be demolished to make way for a rebuilt version, named after legendary running coach Tom Heath. The Sullivan Tennis Courts will undergo an expansion, including adding the O'Shea-Martin Tennis Pavilion to the facility.
The additional construction will include the a reimagined McKenna Hall for multipurpose academic and extracurricular use, an expanded student cafeteria, the Benilde Hall office building and more.
As the campaign strengthens the CBA endowment, the school will be able to fund more student scholarships and invest in faculty development, as well as enhance service programs, extracurricular activities, and athletics.
"With the help of our enthusiastic CBA community, we will reach our new goal of $14 million in the coming year and enhance the excellent Lasallian education here at the Academy," Norkus said.