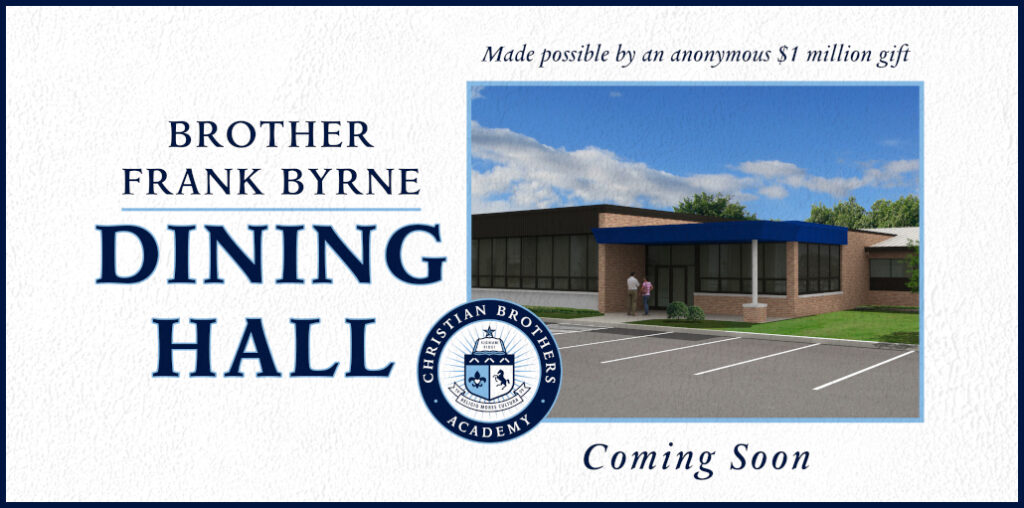 There are very few places on a school campus that impact every student each day.
Since Christian Brothers Academy's school building was completed in 1961, upwards of 15,000 students have sat in CBA's cafeteria to eat breakfast and lunch, socialize with friends, and enjoy some down time.
Thanks in part to an anonymous gift totaling $1 million, Academy men will experience a remodeled and expanded cafeteria: the Brother Frank Byrne Dining Hall. CBA now seeks further contributions towards this exciting project in order to bring the full idea to life.
A remodeled dining space had always been on the radar of the Forever CBA capital campaign cabinet, but this new gift – which matches the largest single donation in CBA history – will take the plans to the next level.
"We are so thankful for the $1 million gift for the new dining hall named after Brother Frank Byrne," said Don Norkus '67, chair of Forever CBA. "We are already seeing additional donations for the project coming in behind this major gift. Of course, we thank Brother Tom Gerrow for his vision for the dining hall, which will be a great asset for CBA both now and well into the future."
The Brother Frank Byrne Dining Hall, which is named after CBA's president from 2009-2021, will add 40 percent more space to the existing cafeteria, allowing more students to eat together at one time.
The food preparation area will also be thoroughly renovated to accommodate modified food court-style service.
"A hallmark of Lasallian education is the camaraderie among students and the larger community, which our new dining hall will emphasize in its design and layout," President Br. Tom Gerrow said. "We are excited for new memories to be shared in this dynamic space."
The Byrne Dining Hall's greater capacity will, in turn, help CBA adjust its daily class schedule, allowing underclassmen to enroll in courses that may have only been available to senior students. Currently, CBA runs six different lunch periods to accommodate nearly 880 students each day.
"We are very excited about the prospect of a larger, more updated eating area for our students," Principal Ross Fales said. "Meals at the right times of the day can be a key part in the total educational process and a larger space will cut down on the number of lunch periods. Furthermore, less lunch periods would allow more flexibility in our schedule, permitting students to take more electives and pursue specific coursework they may be passionate about."
The Byrne Dining Hall will double as a welcoming event area for faculty, parents, alumni and donors to enjoy. When making the $1 million gift, the generous donor stressed the impact a new dining hall can make on every member of the CBA community, which – in true Academy fashion – will certainly be true.
Meanwhile, ongoing construction on two new facilities, the Soccer & Lacrosse Complex and the Sheehan Track & Field Complex, continues to progress on CBA's 157-acre campus.
The Soccer & Lacrosse Complex has seen the turf field laid and completed, with initial sidewalks and paving finished. The facility awaits installation of fixed bleachers, fencing, safety netting, and bathrooms.
The Sheehan Track & Field Complex has begun to take shape, with the infield being laid out around the track oval. The infield will ultimately feature artificial turf for field events as well as specialized areas for throwers and jumpers.