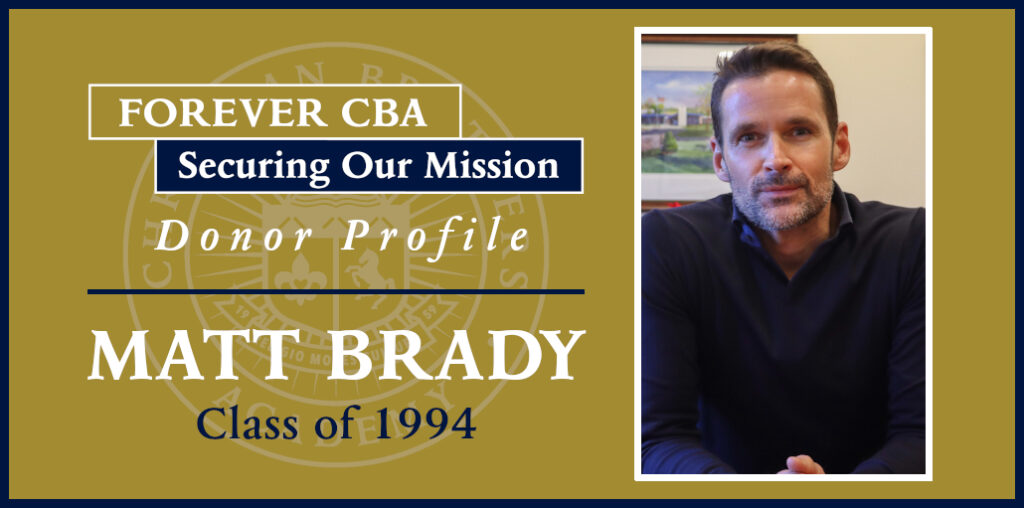 Each time Matt Brady '94 returns to Christian Brothers Academy, he says he can feel a little bit of that "CBA magic" that he remembers from his time as a student.
"Simply by spending my formative years at CBA as a student, I was able to experience and feel how special it was, but with that said, one's experience there does take hard work." he said. "You literally become what you invest – both in terms of time and involvement – at CBA."
Brady chose to support the Daniel Keane Athletic Field because of his memories and friendships made on the soccer pitch. He played four years in the soccer program that was led then by head coach Dan Keane. Over the past year, he has had an opportunity to reconnect with other teammates from his 1994 Colts team, fundraising as a group for the project and yet again harnessing their longtime 30-year brotherhood.
"My memories of CBA are still so vivid and real," he said. "I suppose that's a testament to how profoundly impactful that time there was on me, and it certainly shifted my perception of what was possible for my own future at the time. Something about the place, aside from the education itself, can make you think bigger and more broadly about the world."
After CBA, Brady embarked on a career that included multiple different facets. He is currently a Managing Director at Citigroup in the Global Markets Equities Division. He has spent over 20 years in the I-Banking Sales & Trading field, many of those with Morgan Stanley.
He is also an investor in two popular Asbury Park restaurants: Asbury Festhalle & Biergarten and the Bonney Read Restaurant.
One of Brady's goals, both personally and professionally, has always been to engage deeply with people – friends and colleagues alike – and help them towards their goals as well. He characterizes this approach as a fierce collaborative drive which he believes began during his time at the Academy.
"I feel as if I personally learn the most through this level of engagement where we all benefit, and fundamentally, this falls within the core beliefs of the CBA mission," he said. "The CBA experience taught me about hard work, resilience, harnessing a healthy competitive drive and using all learning experiences – perfect or not – as constructive fuel to move forward."
He currently lives in Rumson with his wife Sarah and two children, Makena and Hutch.