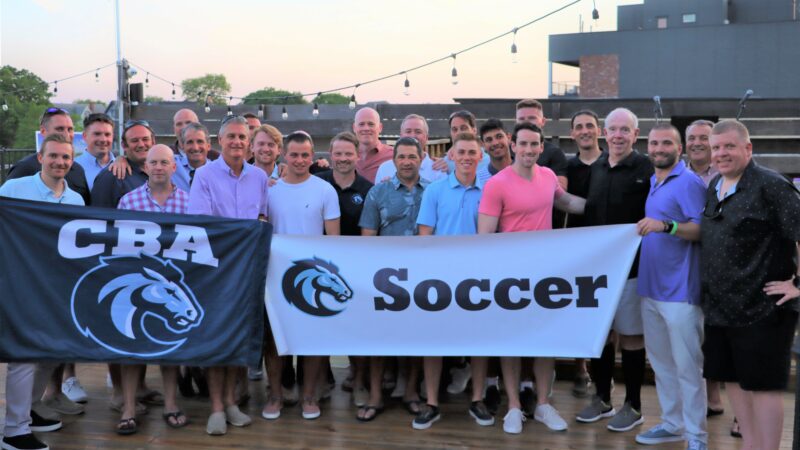 It was a meeting of generations past, current and future Colts. Old friends shared a laugh, new friends were made, and current student-athletes heard stories from alumni.
On June 5th, over 80 alumni, students, parents and friends came together at the Asbury Festhalle & Biergarten to honor coaching legend Dan Keane and support the new athletic field to be named in his honor.
"You can't say 'CBA Soccer' without thinking of Coach Keane, and to have an event to celebrate him and the soon-to-be new fields was awesome," said Chris Catizone '13.
Joined by his wife, children, several grandchildren as well as coaches Tom Mulligan '83, Dave Santos '85, Rory Fitzgerald '00 and Jim Keady '89, Coach Keane held court – per usual – as he shared stories of past championships and other special moments throughout his storied career.
"This event for me certainly served as a night of reflection – and I believe a great moment for collective perspective across all our players and coaches," said host Matt Brady '94, a CBA soccer alumnus and part owner of the Asbury Festhalle & Biergarten. "It was fitting and serendipitous to have hosted the event at this particular venue, on this gorgeous summer evening during sunset talking to an amazing group of people who share these similar experiences."
The soccer field is being relocated to the front of campus where the old track was previously and will be rotated 90 degrees to allow for the largest possible regulation field. Artificial turf will provide a field that is usable in most weather conditions. The facility will include accessible bleachers, seating for 130 spectators, and a new scoreboard and sound system.
"It's incredible to think of where the program was back when I played in 2013, what it's subsequently become and where it will be after the completion of the new fields," said Catizone.
"I know CBA and soccer team experience provided me with the skill-set and confidence for seeking progress, to try new and interesting things – one of those things being involvement in the re-emergence of Asbury Park. I mentally noted how lucky I am to have been part of the legacy throughout the evening," said Brady.
CBA looks forward to the dedication ceremony and celebrating with the entire CBA Soccer community later this year. Thank you to the members of our unbelievably generous community who have already chosen to contribute toward this project!
Have a question about how you can participate in this momentous project? Contact the CBA Advancement Office via email at advancement@cbalincroftnj.org or at (732) 747-1959 ext. 223 to learn more about donor and volunteer opportunities.